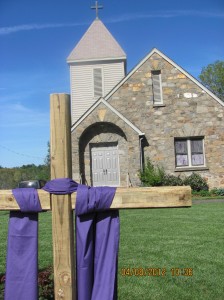 Worship with us during Easter week at any of the following services
Maundy Thursday  April 2 at 7:00 PM- Rev. Rick Johnson. This is a special "Upper Room" and Holy Communion Service focusing on the sacrificial words, acts, and love of Christ. It will offer time for personal reflection and culminate in Holy Communion.
Good Friday  April 3 at 7:00 PM – Rev. Ray Bailey. In this solemn service, we will focus our attention on "The Day He Wore My Crown" and remember why our Lord Jesus went to the Cross and died for our sin.
Easter Sunday  April 5 at 9:30 AM –  Our Easter celebration will begin promptly with a brief  "Easter Morning Moment of Reflection" along the east side of the  Church and the edge of the Pleasant Grove Cemetery and continue with a Breakfast Fellowship in the fellowship hall at 9:45 AM. Our breakfast is open for everyone. Invite others and bring a breakfast item to share. There will not be a Sunday School on Easter, but a very special Easter Worship Service will begin at 11:00AM.